Green Deal / ECO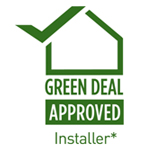 LRB have been registered Green Deal Installers since April 2012, when the Government launched their Green Deal Scheme to help cut carbon emissions and make households all over the country more energy efficient.
Since becoming part of the Scheme LRB have upgraded 100s of old boilers, in all areas of Northern England, for new A rated Energy Efficient Boilers using funding available for customers through the Green Deal Scheme.
Homeowners and private tenants in the UK can now apply for a grant to replace their old, inefficient gas boiler with a brand new A-rated boiler under the Energy Company Obligation (ECO). ECO is a Government scheme which supports affordable warmth, by providing energy measures which use less energy and reduce your bills.
The support you get will depend upon how much energy is estimated to be saved in your home by fitting a new boiler. The higher the savings, the higher the funding; you may get a grant to cover 100% of the replacement cost or a significant part-payment.
You could qualify if you live in England, Scotland or Wales, have a low household income and are in receipt of benefits listed below. Your boiler must also be over 5 years old or have an existing fault which is uneconomical to repair.
Benefits include: –
Pension Credit
Child Tax Credit earning under the 'free school meals' income threshold currently set at £16,190 per annum or for families in receipt of either
Income Support
Income Related Employment and Support Allowance
If you have income-based Job Seeker's Allowance, with at least one of the following components:
Parental responsibility for a child under the age of 5 living in the home
Child Tax Credit which includes a disability or severe disability element
A disabled child premium
A disability premium
Enhanced disability premium or severe disability premium
A pension premium
Higher pension premium or enhanced pensioner premium
For more information on how to obtain and use the funding that is available please contact one of our team.